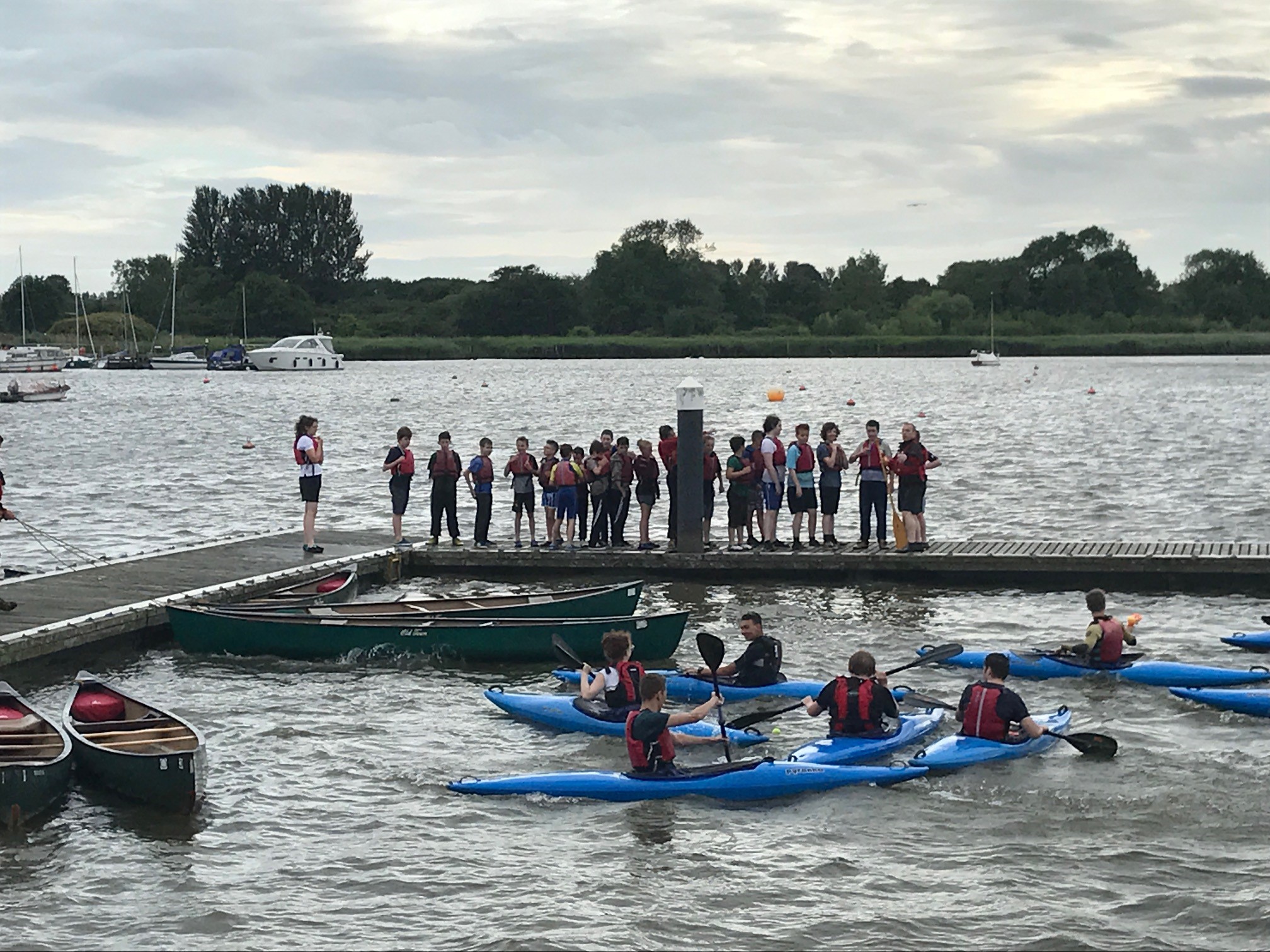 1st Carlton Colville Air Scouts is believed to be the only Air Scout Group in Suffolk, and definitely is in Lowestoft District. We pride ourselves in running exciting and challenging programs for our sections, which encompass traditional Scouting skills as well as Air Activities for our Scout Troop. Air activities vary from training in our fully equipped flight simulator room to powered flying and gliding.
We are very proud to be RAF recognised.
1950) The present day 1st Carlton Colville was started as a Wolf Cub pack by Mr. Reginald Nunn in May 1950. Mr. R Nunn was Cub master ("Akela"), Mrs. Cater and Mrs. Hurren were assistant Cub mistresses.
1951) The 1st Carlton Colville Air Scout troop was founded by Mr. Gordon William Steward on 10th July 1951. Mr. G. W. Steward was the first Scoutmaster, known by everyone as "Skip". The first Scout meeting was held on 12th July 1951. He started with six boys, by the end of 1952 he had over 30 Air Scouts. Their HQ was at the Old School, Carlton Colville. The neckerchief colour was Orange. The Scouts kept their gear in a building at Carlton Rectory which they called "The Hangar".
1952) A friend of "Skip" Steward, Mr. Raymond Woollard joined the group and became Group Scoutmaster. The Air Scouts visited Lakenheath Aerodrome , an American base to see the Sabre jets.
1953) The Air Scouts had their first RAF Inspection in February and passed. The RAF recognition badges were presented by Air Marshall Tuttle in June 1963 at Carlton Hall, the home of the Group's chairman, Mr. Percy Mobbs. The RAF inspection was held every year and the group's recognition number was 28. Mr. R. Woollard left 1st Carlton Colville and became GSM with 12th Lowestoft Sea Scouts. Mr. R. Nunn left Wolf Cubs as he moved to the London area. "Skip" Steward ran the Cubs until the end of 1953. He combined the role of Group Scoutmaster and Scoutmaster until he retired in 1963.
1954) Mr. Meikel became Cub master from 1954 to 1961 and Jonny Rix Assistant Scoutmaster from 1954 to 1956.
1955) The Air Scouts often visited RAF Horsham St Faiths Aerodrome (now Norwich Airport), they also collected money for the RAF Benevolent fund on Battle of Britain weekends from 1954 to 1959. In 1955 the Air Scouts also visited Sculthorpe Aerodrome, an American base in N Norfolk to see the Stratojet bombers. Skip and the Air Scouts organised summer fêtes for the village in 1955, 1956 and 1957.
1956) Air Scouts together with other Scouts and military cadets formed a guard of honour for HRH The Duke of Edinburgh in May 1956 when he opened the South Pier Pavilion.
1957) The 1st Carlton Colville Air Scouts and Wolf Cubs changed their Neckerchief colour to light blue. Also in 1957 a new badge called "Air Apprentice" was introduced. The 1st Carlton Colville were mentioned in the "Scouter" magazine as a record amount of Scouts passing a badge at one time. Some Air Scouts and American Scouts canoed from Norwich to Oulton Broad on an expedition organised by Skip Steward, camps and supplies were set up on the river banks by other Scouts. The Air Scouts and Wolf Cubs had a gate made, with the Scout badge design to commemorate B P's centenary and 50 years of Scouting. The gate is on the entrance to Carlton Colville church. Gordon Jacobs became Assistant Scoutmaster from 1957 to 1961. The Air Scouts visited RAF Honington in Suffolk during November 1957 to see the Valiant bombers. All the Scouts had to wear a security badge.
1958) Skip and the Air Scouts formed a strong friendship with the American Scouts and air personnel at the American aerodromes at Bentwaters and Woodbridge between 1957 and 1968. Scouts spent many long weekends either camping or in billets at the bases. Mr. Harold Smith became Senior Scoutmaster from 1958 to 1961.
1960) The Group's achieved its first Queen Scout, Ronald Allen (Tom) Waters, on 27th June 1960. Mr. Jay became Assistant Scoutmaster from 1960 to 1961.
1961) The Air Scouts moved to another HQ at Harbour Road, Oulton Broad from 1961 to 1965. The Wolf Cub pack closed in 1961. Robert (Bob) Barratt became Senior Scoutmaster from 1961 to 1963.
1962) Roger Clayton was awarded the Cornwell Scout badge for bravery. American Scouters and Scouts taught the Air Scouts North American Indian dancing. The Scouts made all their own costumes. The American Scouts and Air Scouts performed many displays at fêtes and other venues. One display involved skipping with a flaming hoop (I suspect that H&S wouldn't allow that now!), Dennis Waters was the Scout who performed this part.
1963) "Skip" Steward retires from Scouting in September 1963 after 12 years at the helm. Robert (Bob)Barratt became Group Scoutmaster from 1963 to 1965.
1964) Before he retired "Skip" Steward had organised for the Air Scouts to appear on Anglia TV. In March 1964 he took the Scouts to their studios to perform the North American Indian dances. Robert Pye became Scoutmaster, Brian Robinson was became a Queen's Scout.
1965) Ian Hansell became a Queen's Scout. Robert Barratt left to become Group Scoutmaster with 14th Lowestoft. Robert Pye became Group Scoutmaster from 1965 to 1980. In 1965 the Group moved to its present HQ at St Georges Road, Pakefield. The building was an old Beatster's Chamber (a building where fishing nets are made).
1966) Patrol Leaders and Seconds visit RAF Coltishall to see the Lightning jet fighters.
1967) The HQ was renovated and opened by Air Scout Commandant, Air Vice Marshall Bernard Chacksfield on 16th April 1967.Also in 1967 Robert Pye re-started the Cub pack.
1968) Iris Smith became Cub Mistress ("Akela").
1969) Due to the change over in Scouting (known as the "Advance Party Report") RAF Inspections were suspended until further notice.
More history to follow…